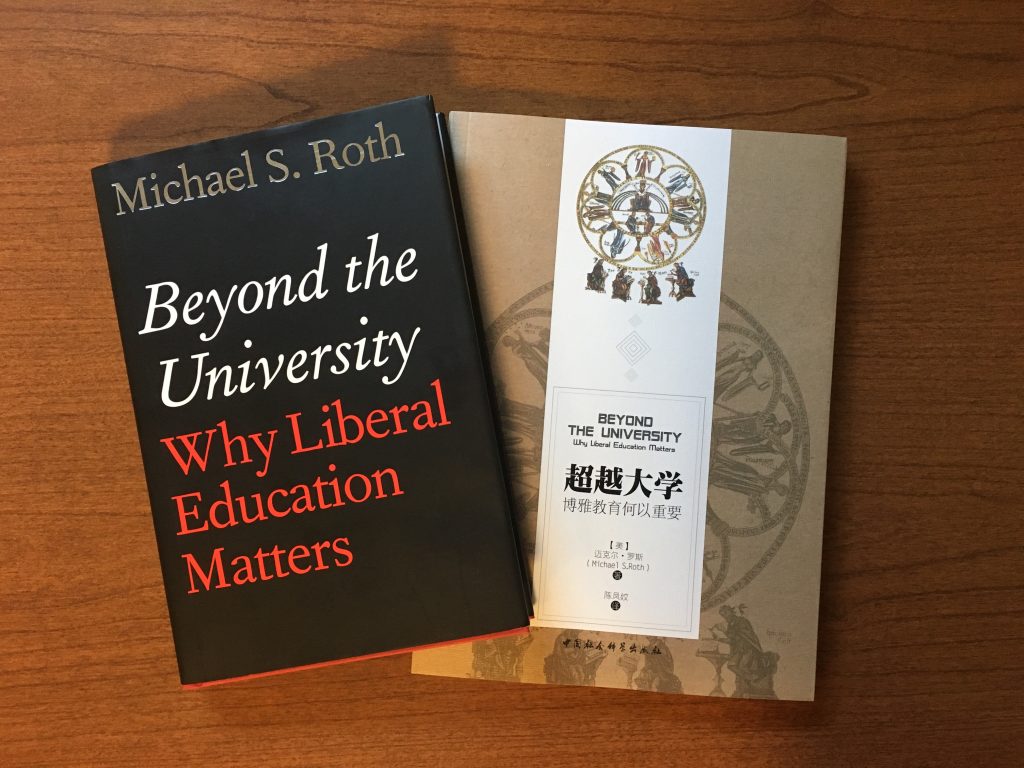 博雅教育是美国蓬勃发展的关键。这是迈克尔∙S∙罗斯(Michael S. Roth)在他的获奖著作《超越大学:博雅教育何以重要》中的重要论点。该著作近期由中国社会科学出版社翻译成中文。罗斯认为,强调创造性和批判性的博雅教育是长久以来在世界各处有所成就的关键。早在美国共和国的黎明时期,罗斯说,像托马斯∙杰斐逊(Thomas Jefferson)这样的人物就主张在职业选择前进行知识探索的重要性。当今,大学博雅教育,如罗斯校长所在的维思大学,为学生提供广泛的世界知识(自然科学、人文、艺术,和社会科学)和解决问题的能力,促使他们能够迎接新的挑战。致力于广泛博雅教育的学院继续培养美国商业、法律和文化领袖。
广泛的博雅教育与职业教育不同,职业教育相对狭窄。职业教育的危险在于,它使青年人为当前,而仅仅是当前的工作做准备。罗斯说,问题在于,在快速变化的世界中,当前的工作会很快成为过去的工作,而那些受职业教育的人会被落下。博雅教育的优势是能够使学生具有更好的适应能力。罗斯认为,博雅教育的自由探究与实验有助于我们独立思考、对自己的信念和行为负责,且为我们周围的世界增加价值,博雅教育使学生在大学之后的未来享有更丰富和成功的生活做好准备。
迈克尔∙S∙罗斯所著的《超越大学:博雅教育何以重要》可在此购买:http://product.dangdang.com/25084320.html
关于作者
迈克尔∙罗斯是维思大学校长。具有历史学者、教师、艺术策展人和作家多重身份,他以美国高等教育进步领导者而著称。他继续在维思大学教授本科学生,并且通过在Coursera平台上的开放在线课程"现代与后现代(The Modern and the Post-Modern)"和"如何改变世界(How to Change the World)",教授全球数以千计的学习者。罗斯是五本书的作者,并编辑和合作编辑了其他多本著作和期刊。他还在《纽约时报》,《华尔街日报》和《华盛顿邮报》等刊物上发表了几十篇随笔和书评。
---


Liberal education has been key to flourishing in America. This is the argument made by Michael S. Roth in his award-winning book Beyond the University: Why Liberal Education Matters – recently translated to Chinese by China Social Sciences Press. Roth argues that liberal education with its emphasis on creative and critical thinking has long been essential to success in the world. As far back as the dawn of the American Republic, says Roth, figures like Thomas Jefferson argued for the importance of intellectual exploration before choosing one's vocation. Today, liberal education at colleges like Wesleyan University, where Roth is President, provides students with a broad knowledge of the world (natural sciences, humanities, arts, and social sciences) and the problem-solving skills to enable them to meet new challenges. Colleges dedicated to a broad liberal education continue to develop leaders in American business, law, and culture.

Broad liberal education is distinct from vocational education, which tends to be narrow. The danger of vocational education is that it prepares young people for the jobs of today – and only those jobs. The problem with this, says Roth, is that, in a rapidly changing world, today's jobs quickly become the jobs of yesterday, and those with vocational training can be left behind. An advantage of liberal education is that it makes students more adaptable. The free inquiry and experimentation of liberal education, Roth argues, help us to think independently, take responsibility for our beliefs and actions, and to add value to the world around us. Liberal education prepares students for richer and more successful lives beyond the university.
Chinese translations of Beyond the University: Why Liberal Education Matters by Michael S. Roth can be purchased here: http://product.dangdang.com/25084320.html
About the Author

Michael S. Roth is president of Wesleyan University. A historian, teacher, arts curator and author, he is renowned as a progressive leader in American Higher Education. He continues to teach undergraduates at Wesleyan and thousands of learners around the world in his massive open online courses, "The Modern and the Post-Modern" and "How to Change the World" on the Coursera platform. Roth is the author of five books and has edited and coedited numerous other volumes and journal issues. He also has published dozens of essays and book reviews in publications including the New York Times, the Wall Street Journal, and The Washington Post.